2019 Environmental Programs Scholarship Recipients
The purpose of the Environmental Programs scholarship is to encourage students to think critically about how to foster a civil discourse that is conducive to addressing the impact of climate change and encourage policy or management directed toward the balance between the natural and human environment, including implications for human well-being. We had an impressive group of applicants for the 2019 scholarship. Emma Belliveau (EVST), Margaret Chafouleas (ENVS), Megan Ferris (ENVS), Emily Kaufman (EVST), Cassidy Kendall (EVST) and Lauren Pawlowski (EVST) were the recipients of the 2019 award.
Please visit our scholarship page for more information about the scholarship and how to apply.
Emma Belliveau Environmental Studies and Applied Resource Economics (CAHNR) Class of 2020
Emma is a senior in the honors program and is pursuing a double major in Environmental Studies and Applied and Resource Economics. She is from Sacramento, California and since being at the University has had the opportunity to broaden her horizons even further by traveling to South Africa on a month-long field ecology trip, as well as studying abroad in Florence, Italy through the Sustainable Food Systems program.
The interdisciplinary nature of the Environmental Studies major appealed to her as offering a way to garner a holistic and intersectional view of environmental issues. Over the course of her three years here, Emma has been grateful for the chance to take courses from an array of disciplines that reflects the diverse and dynamic nature in which people actually learn. Her classes have opened her eyes to the different facets, nuances and complexities of environmental policy and its outcomes.
Emma's interests lie in issues of climate change, climate justice and food access— specifically their interplay with agricultural and social sustainability. She is personally invested in inspiring change by raising climate consciousness and emphasizing environmental education to tackle issues on a local, community-based level. She hopes her future will consist of reconstituting the fundamental principles on which we as a society place worth, and what our conception of richness is.
Maggie Chfouleas Environmental Sciences and Journalism (CAHNR/CLAS) Class of 2022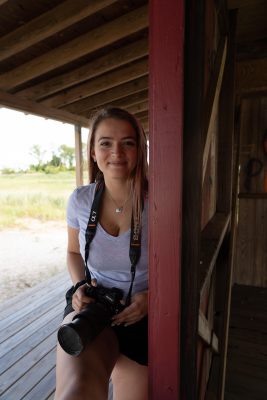 Maggie Chafouleas is a sophomore double majoring in Environmental Science and Journalism at UConn.  Maggie is drawn to environmental science because of the interdisciplinarity of the field: it is a study that combines anthropological and ethical studies with hard science and economics. She enjoys that in order to understand global environmental issues one must be open to learning from multiple perspectives. Maggie's love of writing and research also led her to major in journalism. Journalism allows her to tell stories through photography and writing. 
Maggie wants to combine these fields of study by going into science communication. She hopes to create reliable sources of information for normal people to learn about scientific discoveries that will impact them in their daily lives, as well as bring issues of environmental justice to light. Maggie believes that environmental issues impact everyone - they are deeply intersectional, crossing over with in gender, racial, and intergenerational inequality. She believes that we cannot approach a solution to our current environmental crisis without addressing all of them together, and is preparing to help reach that solution through her education at UConn.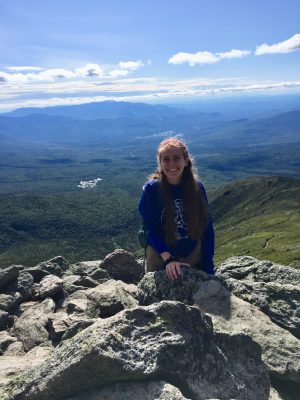 Megan Ferris Environmental Sciences (CAHNR) Class of 2020
Megan Ferris is a senior from Danbury, Connecticut majoring in Environmental Sciences with a concentration in Global Change. She is the Vice-President of the UConn Wildlife Society, and in her free time loves to hike, hammock, read, and swim. She chose to major in Environmental Sciences because she has always had a strong passion for nature and a desire to protect it. She believes it is our responsibility to take action and to live more sustainably for future generations.
She has interned as an Environmental Educator at Woodcock Nature Center where she implemented environmental lessons, facilitated hands-on nature-themed activities, and encouraged children to connect with their natural surroundings. She also volunteered in the Bagchi lab on the FEN project studying forest fragmentation on invasive Gypsy Moths in Connecticut forests. Megan will be attending the 2019 United Nations Climate Change Conference with UConn as a student delegate, and is looking forward to hearing how different nations are taking action against climate change!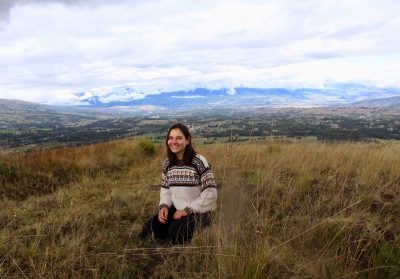 Emily Kaufman Environmental Studies and Sociology (CLAS) Class of 2021

Emily Kaufman is double majoring in Environmental Studies and Sociology with a minor in Geographic Information Systems. Emily is a leader in many environmental clubs and organizations on campus. She is the co-chair of the Sustainability Subcommittee under Undergraduate Student Government, a student representative for the University's Environmental Policy Advisory Council, and a member of the General Education Environmental Literacy Task Force. Emily also served as a UConn Fellow @COP24 in Katowice, Poland, and a co-organizer of the latest UConn climate strike. Emily has a passion for environmental justice advocacy. She is particularly interested in the intersections between social issues and climate change and redefining unequal systems through collaborative education. She is currently working on research involving inequitable transportation patterns in the Greater New York City area and how to make transportation more economically and environmentally sustainable for poorer communities. Emily also loves to travel. The summer before her freshman year she traveled to Ecuador where she interned with the Social Entrepreneurship Corps, and she has most recently returned from a semester exchange in Melbourne, Australia.  Outside of academics, Emily is a member of UConn's club running team and an on-campus a capella group.
According to Emily, becoming an Environmental Studies major was one of the best decisions she made at UConn. An interdisciplinary major like Environmental Studies has given her the opportunity to learn the science behind environmental issues and apply it to her passion for social change. She chose this major because she loves the flexibility it offers, especially for someone like her who is double majoring and minoring.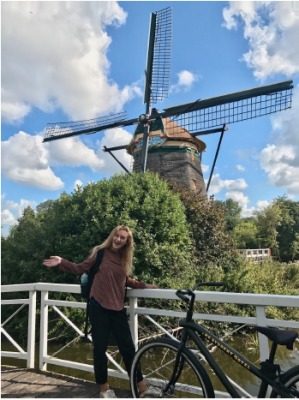 Cassidy Kendall Environmental Studies and English (CLAS) Class of 2020

  Cassidy Kendall is a junior double-majoring in Environmental Studies and English. In addition to learning about the environment and reading, she loves being outside, hiking, and visiting art museums. She works at the Benton Museum of Art and volunteers with Spring Valley Student Farm. She is also a part of Veghuskies and works in a lab studying invertebrates in the Ecology and Evolutionary Biology department on campus.
When Cassidy was considering different majors, she knew that she wanted to help society improve its relationship with the natural environment. This led her to select Environmental Studies as her primary major. Cassidy also believes that knowledge is valuable only when it can be effectively communicated to others. For this reason, she selected English as her secondary major. After she graduates, she plans to study law in order to serve humanity and the environment it is a part of.
Cassidy is so passionate about Environmental Studies because it is an interdisciplinary field with seemingly endless opportunities. For example, last summer she studied abroad in Amsterdam to learn about sustainability in urban spaces. During the course, the students evaluated factors such as transportation, food, and land planning and management. On the other hand, Cassidy also works in a lab at UConn that collects and categorizes different species of invertebrates to track the eating habits of birds endemic to Connecticut. This work is much more scientific and technical than her experience in Amsterdam, yet it is still related to the human-environment relationship. Cassidy loves that there are many directions that she could explore through Environmental Studies. Despite the multitude of possibilities, the Environmental Studies field seeks to make positive changes, to help society and the environment. And it is for this reason that she most loves her major.
Lauren Pawlowski Environmental Studies and Economics (CLAS) Class of 2021
 Lauren Pawlowski ia a sophomore from Shelton, Connecticut  pursuing a BA in Environmental Studies and a BS in Economics as part of the UConn Honors Program. This past summer, Lauren worked as an intern at the Fairfield Water Pollution Control Facility, where she conducted laboratory water quality analyses and learned more about wastewater treatment. Here at UConn, Lauren interns for the Office of Sustainability and is involved with EcoHusky, UConn Club Pole Vault, Women and Minorities in Economics, the Outing Club, and more. After attending the Alternative Spring Break to Immokalee, FL focused on migrant farmworker rights and rural poverty, she co-founded the UConn Student Farmworker Alliance to raise awareness about these issues. Lauren also recently joined SOS Food Recovery to alleviate food waste and food insecurity.
Lauren chose Environmental Studies as her primary major and Economics for a second degree because there are many intersections between environmental science research, climate change, and economic policy. Lauren has always been passionate about fighting for environmental issues, raising awareness, and trying to think of climate solutions. Working for the Office of Sustainability on campus has enabled her to try to improve UConn's status as a green school and coordinate environmentally-related events and initiatives. Lauren is  excited to be attending the United Nations Conference of the Parties (COP25) as part of the UConn cohort this fall, where she hopes to learn more about the intersections of economic development, social justice, and environmental issues. Lauren is considering renewable energy, sustainable business and environmental economist data research as potential career paths. At UConn, Lauren has enjoyed taking classes for her two majors, which have allowed her to improve problem-solving abilities, to think critically as an environmental advocate, and develop technical skills that will be useful to her future career. She hopes to use these skills to make a lasting global impact and work towards a green, sustainable future.